---
Table of Contents
The History of Our Industrial Food System
Farm Workers Rights
Restaurant Workers Rights
Environmental Racism
Food Apartheid
Food Sovereignty
Fog of Urban Ag
Colonization of the Diet
---
The History of Our Industrial Food System
"The industrial food system as we know it today is the child of the plantation system of agriculture. They are both built upon exploited labor, dispossession and exploitation of land from indigenous peoples, the destruction of rural culture and land, consolidation of power and land in the ruling classes, and the forced migration of peoples"
Blain Snipstal, Black Dirt Farm
—
Food + Justice = Democracy: LaDonna Redmond at TEDxManhattan 2013
—
The History of our Food System
Colonialism

The colonial plantation system is based on the exploitation of people and resources
Oppressive Legislation and Policies Hurting Farmers of Color
Exclusion of farm workers from Federal Labor laws (1930s)

1935: National Labor Relations acts – protects workers acting collectively to form unions.
1938: The Fair Labor Standards Act (FLSA) – protections for minimum wage, overtime pay, workers comp, and against child labor.

Was amended in 1978 to mandate minimum wage for workers on large farms only.

These exclusions occur mainly because farmers were majority people of color
Lack of Land Ownership for People of Color
According to NSAC's "Racial Equity in the Farm Bill: Context and Foundations"
"While millions of acres of land in the Midwest and Great Plains were being given away through the 1862 Homestead Act, the rolling back of Reconstruction-era reforms barred Black farmers in the South from accessing the land and capital needed to become farm owner-operators. While these farmers had indisputable expertise in the cultivation of both commodity crops, small grains, vegetables, and livestock, they faced formal legal discrimination on state, county, and local levels; farmers also dealt with routine threats violence and even death. One of the toughest barriers for Black farmers was county government control over the Farmers Home Administration (now the Farm Service Agency) boards. Lack of representation on these boards effectively locked out Black farmers from accessing USDA funds for almost an entire century"
Exploitation and Racism of Foreign Farm Workers

Asian (Chinese, Japanese, Filipino) – 1860s-1930s
Mexican – 1930s-1970s
Southeast Asian Refugees – 1990s

Refugees from war torn countries came to farm California and fish in the Mississippi Gulf Coast

Latin American (Primarily Mexico and Central American) – 1970s-present

Undocumented workers, migrant workers and H-2a guest/temporary workers who experience high levels of exploitation, abuse, racism and poverty with little options for help
Rise of Industrial Agriculture

Developed after WW2 in mid-20th century beginnings and sold to the public as a technological miracle.

Its efficiency were suppose to allow food production to keep pace with a rapidly growing global population, while ensuring that farming remained a profitable business.
The reality is industrial agriculture comes with a huge price picked up by taxpayers, rural communities, farmers, consumer health, animal welfare, and environmental costs that future generations will be paying.

Large-scale mono-culture systems that:
A monopoly like consolation of farm production by a handful huge agribusinesses
Overuse of antibiotics in meat production contributing to a growing problem of antibiotic resistance that is having a serious impact on the treatment of infectious diseases.
Factory like farming systems that increased efficiency at the cost of:
Industrial agriculture is the leading source of pollution for:
Farm Bills

Based upon the Agricultural Adjustment Act of 1933 to help farmers through the Dust Bowl and Great Depression
The farm bill is a comprehensive piece of legislation that covers everything from:

crop insurance
healthy food access for low-income families
training support for beginning farmers
funding for sustainable agriculture research.
NSAC's "Racial Equity in the Farm Bill: Context and Foundations"
"The farm bill is an immensely powerful package of laws that sets the course of our country's food and farm systems…In the 1990 Farm Bill, advocates also pushed Congress to create the Outreach and Assistance to Socially Disadvantaged Farmers and Ranchers program (also known as the "2501 program"). To this day, the 2501 program is the only farm bill program that explicitly addresses the unique needs of farmers and ranchers of color (veterans were added to the program in the 2014 Farm Bill). 2501 provides grants to colleges and universities, nonprofits, and community organizations working with farmers of color. The program's focus on outreach makes it an effective mechanism through which farmers of color can access federal resources through existing loan, conservation, rural development and other farm programs.
In additional to 2501, there are special incentives and funding set-asides for socially disadvantaged farmers within USDA administered grant programs that have been created thanks to advocacy by NSAC and other farmer-focused organizations. Programs with these incentives and set-asides include, but are not limited to:
Despite the legislative and administrative progress by USDA in better serving socially disadvantaged farmers, there are still many programs that do not adequately meet the needs of these groups. Further complicating the issue is inconsistent administration, outreach and accessibility across USDA programs. Some USDA programs, for example, have conflicting definitions of "socially disadvantaged," which creates confusion and challenges for farmers interested in those programs. BFRDP is a prime example of this conflict; in this program gender is included in the statutory definition of socially disadvantaged farmer, however, gender is not included as part of the "socially disadvantaged" category in many other programs. Programs also have different types of provisions for socially disadvantaged farmers and ways of setting participation targets. For example, in the case of Direct Farm Ownership Loans, county or reservation demographic data sets "target participation rates". In contrast, EQIP includes a set-aside of five percent of all funding for socially disadvantaged farmers…There has been progress, however, and the 2018 Farm Bill provides us with an opportunity to move the needle even further. Support for key USDA programs that support socially disadvantaged farmers and ranchers will be debated during this farm bill, many of which (like the 2501 Program and the Federally Recognized Tribal Extension Program) have been underfunded for years. This farm bill offers a rare opportunity to reverse the trend of disinvestment in resources for underserved producers and food producing communities, and to lay out a plan for a brighter, more prosperous future for all. Recommendations for how we can achieve this goal can be found in detail in our farm bill platform, Agenda for the 2018 Farm Bill."
"…the Republican Farm Bill — scheduled for markup in the House Agriculture Committee today –– puts the environment and public health at risk by continuing to prop up a broken food and agriculture system based on heavily polluting factory farms, genetically engineered mono-crops, processed foods, exploitative labor conditions, and over-dependence on chemical and energy-intensive pesticides and fertilizers.
Trump and the Republicans are promoting highly partisan, regressive, and unjust policies that would expand corporate welfare for mega-farms while slashing conservation programs, eliminating programs that support local, organic, and sustainable farmers and rural economies, and cutting vital nutrition funds for hungry families. It's Robin Hood in reverse — taking from small-scale farmers and low-income families to further enrich agribusiness, factory farms, and crop insurance companies.
In an ironic and cruel twist, the Republican Farm Bill would require stricter work requirements for food assistance recipients —resulting in a cut of US$9 billion — while eliminating requirements that farm subsidy recipients actually work on their farm. This bill would roll back several other important subsidy reforms —including payment limitations and means testing aimed at leveling the playing field for smaller-scale farms that find it harder to compete with highly capitalized large-scale operators. Limitless subsidies to mega-farms proposed in this bill will drive land costs up, small farmers out, and result in increased concentration in the agricultural sector."
NY Times: "Which Poor People Shouldn't Have to Work for Aid?"
"Exhorted by President Trump, federal administrators and many Republican state officials are drafting rules (included in the 2018 GOP farm bill) requiring people to work in exchange for Medicaid, housing aid and food assistance. But what happens when the poor live where work is hard to find?
In Michigan, the state's Senate has passed a proposal that would exempt Medicaid recipients from a work requirement partly on the basis of geography — if they live in a county where unemployment exceeds 8.5 percent. Geography may seem a simple way to identify who faces barriers to work, but it's also a crude one. The lines that policymakers draw risk embedding regional and racial biases about who counts as "left behind."
Michigan's approach, critics point out, would mean that poor, mostly white rural counties are exempted, but not the predominantly black, economically troubled cities of Detroit and Flint. Those cities happen to be located within counties with low suburban unemployment, which brings the overall unemployment of the counties below 8.5 percent. There are similar demographic patterns in other states pursuing work requirements, including Kentucky, Virginia and Ohio, where the rural areas most likely to qualify for exemptions tend to be disproportionately white.
"This is trying to thread that needle between 'are you poor because of structural reasons, where you live,' or 'are you poor because of your own choices?'" said Heather Hahn, a senior fellow in the Center on Labor, Human Services and Population at the Urban Institute.
The problem, Ms. Hahn and others say, is that geography captures just one kind of barrier to employment. "If you're taking only the geography as the structure," Ms. Hahn said, "it's really overlooking the much more obvious racial structure." African-Americans who face racial discrimination in the job market are more likely to have a hard time finding work.
And people who can't afford cars and live where public transit is inadequate have a harder time. So do the poor with criminal records, or those without a high school diploma, or people with problems securing child care.
Policies that exempt high-unemployment places, but not people who face other obstacles to work, selectively acknowledge barriers for only some of the poor. In effect, they suggest that unemployment is a systemic problem in struggling rural communities — but that in poor urban neighborhoods, it's a matter of individual decisions."
—
The Atlantic: The Farm Bill's Threat to Food Security
The major agricultural and welfare proposal currently before a conference committee would reduce poor Americans' access to nutrition, even as the USDA acknowledges its food-stamp program has been instrumental in fighting hunger.
—
Corporate Food Regimes
"One way to imagine the food system is as a "regime." A food regime is a "rule-governed structure of production and consumption of food on a world scale." The first global food regime spanned the late 1800s through the Great Depression and linked food imports from Southern and American colonies to European industrial expansion. The second food regime reversed the flow of food from the Northern to the Southern Hemisphere to fuel Cold War industrialization in the Third World.
Today's corporate food regime is characterized by the monopoly market power and mega-profits of agrifood corporations, globalized meat production, and growing links between food and fuel. Virtually all the world's food systems are tied into today's corporate food regime. This regime is controlled by a far-flung agrifood industrial complex, made up of huge monopolies like Monsanto, ADM, Cargill and Walmart. Together, these corporations are powerful enough to dominate the governments and the multilateral organizations that make and enforce the regime's rules for trade, labor, property and technology. This political-economic partnership is supported by both public and private institutions like the World Bank and International Monetary Fund, the World Food Program, USAID, the USDA and big philanthropy.
Liberalization and Reform
Like the larger economic system of which they are a part, global food regimes alternate between periods of liberalization characterized by unregulated markets, corporate privatization and massive concentrations of wealth, followed by devastating financial busts. When these busts provoke widespread social unrest—threatening profits and governability—governments usher in reformist periods in which markets, supply, and consumption are re-regulated to reign in the crisis and restore stability to the regime. Infinitely unregulated markets would eventually destroy both society and the natural resources that the regime depends on for profits. Therefore, while the 'mission' of reform is to mitigate the social and environmental externalities of the corporate food regime, its 'job' is identical to that of the liberal trend: the reproduction of the corporate food regime. Though liberalization and reform may appear politically distinct, they are actually two sides of the same system.
Reformists dominated the global food regime from the Great Depression of the 1930s until Ronald Reagan and Margaret Thatcher ushered in our current era of neoliberal "globalization," in the 1980s, characterized by deregulation, privatization, and the growth and consolidation of corporate monopoly power in food systems around the globe.
With the global food and financial crises of 2007-2010, desperate calls for reform have sprung up worldwide. However, few substantive reforms have been forthcoming, and most government and multilateral solutions simply call for more of the same policies that brought about the crisis to begin with: extending liberal ("free") markets, privatizing common resources (like forests and the atmosphere), and protecting monopoly concentration while mediating the regime's collateral damage to community food systems and the environment. Unless there is strong pressure from society, reformists will not likely affect (much less reverse) the present neoliberal direction of the corporate food regime.
Food Enterprise, Food Security, Food Justice, Food Sovereignty
Combating the steady increase in global hunger and environmental degradation has prompted government, industry and civil society to pursue a wide array of initiatives, including food enterprise, food security, food justice and food sovereignty. Some seek to ameliorate hunger and poverty through charity. Others see it as a business opportunity and call for public-private partnerships. Human rights activists insist that government and industry should be held accountable when they undermine the right to food. Those who can afford good food promote individual consumer choices (vote with your forks). Food justice activists from underserved communities struggle against structural racism in the food system. Some efforts are highly institutionalized, others are community-based, while still others build broad-based movements aimed at transforming our global food system.
Understanding which strategies work to stabilize the corporate food regime and which seek to actually change it is essential if we are to move toward more equitable and sustainable food systems.
Some actors within the growing global food movement have a radical critique of the corporate food regime, calling for food sovereignty and structural, redistributive reforms including land, water and markets. Others advance a progressive, food justice agenda calling for access to healthy food by marginalized groups defined by race, gender and economic status. Family farm, sustainable agriculture advocates, and those seeking quality and authenticity in the food system also fall in this progressive camp. While progressives focus more on localizing production and improving access to good, healthy food, radicals direct their energy at changing regime structures and creating politically enabling conditions for more equitable and sustainable food systems. Both overlap significantly in their approaches. Together, folks in this global food movement seek to open up food systems to serve people of color, smallholders, and low income communities while striving for sustainable and healthy environments. Radicals and progressives are the arms and legs of the same food movement.
The Food Regime—Food Movement Matrix helps describe the dominant trend in the food system according to the politics, production models, tendencies, issues and approaches to the food crisis:
Time for transformation
The current food crisis reflects the environmental vulnerability, social inequity, and economic volatility of the corporate food regime. Absent profound changes we will continue to experience cycles of free market liberalization and mild regime reform, plunging the world's food systems into ever graver crises. While food system reforms—such as localizing food assistance, increasing aid to agriculture in the Global South, increasing food stamps and funding research in organic agriculture—are certainly needed and long overdue, they don't alter the balance of power within the food system, and in some cases, may even reinforce existing inequities.
Progressive projects are tremendously energetic, creative and diverse, but can also be locally focused and issue—rather than system—driven. For example, the movement to improve access to food in low-income urban communities has received high level support from the White House and the USDA. But the causes of nutritional deficiency among underserved communities go beyond the location of grocery stores. The abysmal wages, unemployment, skewed patterns of ownership and inner-city blight, and the economic devastation that has been historically visited on these communities are the result of structural racism and class struggles lost. No amount of fresh produce will fix urban America's food and health gap unless it is accompanied by changes in the structures of ownership and a reversal of the diminished political and economic power of low-income people of color. To end hunger at home and abroad practices, rules and institutions (structures) determining the world's food systems must be transformed.
Food movements unite!
The challenge for food movements is to address the immediate problems of hunger, malnutrition, food insecurity and environmental degradation, while working steadily towards the structural changes needed to turn sustainable, equitable and democratic food systems into the norm rather than a collection of projects. This means that both reform and transformation are needed. Historically, substantive reforms have been introduced to our political and economic systems, not by the good intentions of reformists per se, but through massive social pressure on legislators—who then introduce reforms. The social pressure for system change comes from social movements.
The food crisis of 2007-2010 has opened up new opportunities for reform and transformation, but has also led to a retrenchment of liberalization. This suggests that substantive changes to the corporate food regime will originate outside the regime's institutions—from the food movement. Whether or not the food movement can bring about change depends on whether or not progressive and radical trends unite. The inequities and injustices of the corporate food regime are the default condition between food movement organizations. These social, economic and political divides of race and class can't be ignored or willed away. An honest and committed effort to the original food justice principles of anti-racism and equity within the food movement is just as important as working for justice in the food system. Rural-urban and North-South divides must also be addressed in practice and in policy for the food movement to unite in a significant way.
In this regard, the progressive trend is pivotal: If progressive organizations build their primary alliances with reformist institutions from the corporate food regime, the regime will be strengthened, and the food movement will be weakened. In this scenario, we are unlikely to see substantive changes to the status quo. However, if progressive and radical trends find ways to build strategic alliances, the food movement will be strengthened. Social pressure from a united food movement has a much higher likelihood of bringing about reforms and of moving our food systems towards transformation."
—
—
---
Farm Workers Rights
—
US Farm Work Stats
2-3 million farmworkers in the US
Most in California, Texas, Washington, Florida, Oregon, and North Carolina.
Of farmworkers in the United States, 75% were born in Mexico.
Farmer workers are:

53% undocumented (without legal authorization)
25% are United States citizens
21% are lawful immigrants

H-2a guest/temporary workers

The average income of a farm worker is $15-17,499
Average family's total income from farmworkers is $17,500- $19,999
—
H-2 Guest/Temporary Workers
H-2a temporary or guest workers are increasing in the US in the last few years

Can stay only 10 months
Have limited rights; they cannot leave their jobs or switch employers, and critics say it leaves them vulnerable to abuse or mistreatment.
—
Migrant Workers
42% of farm workers are considered "migrant workers" defined by traveling at least 75 miles during a 12 month period for work

35% of migrant workers travel back and forth from a foreign country
Almost six out of ten farmworkers live apart from their immediate family members.
Farm worker immigration to the United States has increased notably since the 1994 signing of NAFTA, a free trade agreement that has driven over two million Mexican farmers out of business.
—
Farm Worker Rights
Farmworkers were excluded from nearly all of the major federal labor laws passed in the 1930s. Some of the laws have been amended to include workers on large farms, but exemptions remain in the following laws:

Labor organizing
Minimum wage

The Fair Labor Standards Act of 1938 (FLSA) originally excluded all farmworkers, and was amended in 1978 to mandate minimum wage for workers on large farms only.

Overtime pay

The FLSA has never been amended to provide overtime for farmworkers, and only a few states have passed laws requiring it.

Child labor laws

The FLSA sets 12 as the minimum age for farm work, not 16 as in other jobs.
—
Farm Worker Health
Dangerous work:

Agriculture is consistently ranked as one of the three most dangerous occupations in the United States.

Pesticide risks:

Farmworkers suffer from the highest rate of toxic chemical injuries and skin disorders of any workers in the country, as well as significant rates of eye injuries

Health concerns:

Farmworkers face higher incidences than other wage-earners of heat stress,

dermatitis

, urinary tract infections, parasitic infections, and tuberculosis.

Poor health of children:

Children of migrant farmworkers have higher rates of pesticide exposure, malnutrition and dental disease than the general population. Children of migrant farmworkers are also less likely to be fully immunized than other children.

Life expectancy

The average life expectancy of migrant and seasonal farm workers is 49 years of age, in comparison to the U.S. average of 75 years of age

Housing effects:

Poor migrant housing conditions lead to increased prevalence of lead poisoning, respiratory illnesses, ear infections and diarrhea.

Limited insurance:

Only ten percent of farmworkers report having employer-provided health insurance.
—
Obstacles to Health Care
Lack of transportation
Limited hours of clinic service
Cost of health care
Limited or no interpreter service
Frequent relocation in search of farm work
Farmworkers are not protected by sick leave and risk losing their jobs if they miss work
Fear of deportation
—
References
SAF: United States Farmworker Factsheet
US Department of Labor: The National Agricultural Workers Survey
Farmworker Justice: Selected Statistics on Farmworkers
—
President Trump ran on a platform that attacked illegal immigrants and multiculturalism.  Since becoming president he has drastically increased ICE (U.S. Immigration and Customs Enforcement) agents and has expanded the scope of ICE beyond illegal immigrants convicted of crimes and is now targeting and deporting anyone who is an undocumented immigrant.  This is a huge threat to the US farm system, which relies more than half of its labor that provides the majority of US food, on undocumented workers, due to the low wages and hard working conditions of farm workers.   This is causing undocumented workers to fear going to the hospital or sending their children to school.
In addition to targeting undocumented workers, Trump's rhetoric is fueling an anti-immigrant movement that is threatening and growing hate towards documented immigrant farm workers, who make up a quarter of US farm workers.
—
Food Chain (Full Documentary)
—
---
Restaurant Workers Rights

—
Saru Jayaraman Ted Talk, "Behind the Kitchen Door"
—
Restaurant Industry
11 million food workers
One of the largest and fastest growing industry in the US.  In 2017 the restaurant industry grew faster than health care, construction, or manufacturing.
Employees nearly one in 10 Americans
—
Poverty Wages
Every year restaurant workers occupy 7 out of 10 of the lowest-paid occupations reported by the Bureau of Labor

Farmworkers are also in the 10 lowest paid list

3 times more likely to fall below poverty line than any other worker
Restaurant workers use food stamps at twice the rate of the U.S. workforce
—
Lack of Benefits
Almost 9 out of 10 restaurant workers lack paid sick days (87.7 percent) and health insurance from their employer (89.7 percent)
90 percent of restaurant workers don't have paid sick days, and "two-thirds report cooking, preparing and serving food while sick."
—
Discrimination
People of Color Are Paid 56 Percent Less Than White Workers

Generally, across front-of-the-house jobs, white male workers are paid more on average than other workers. In California, they make $15.06 per hour on average, compared to $12.85 for non-white males, $11.56 for white women and $10.21 for non-white women.

Women and workers of color are often pushed into the lowest-paying jobs in the food service industry, while white male food industry workers are often channeled toward the highest-pay bartender and server jobs in fine-dining establishments

53% of those who work in back-of-the-house positions are people of color, in front-of-the-house fine-dining jobs, that number plummets to 22%.
In fine dining restaurants, 81% of management is white, often male.

For more stats check out "ROC: Ending Jim Crow in America's Restaurants: Racial and Gender Occupational Segregation in the Restaurant Industry"
—
Harassment
80% of women have experienced some form of sexual harassment

Higher rates of harassment at tipped sub-minimum wage restaurants
Must relay on customer, not employer, for their income
—
The Racist History of Tipping
—
Tipped Sub-Minimum Wage (2-Tier Wage System)
43 states use a tipped sub-minimum wage

History is exploitative
First used in US for Freed slaves hired without pay by restaurants and Pullman rail operators
Ban for awhile until first minimum-wage law in 1938 allowed states to set a lower wage for tipped workers
In 1966 Congress adopts a federal tipped minimum wage that increased in tandem at 50% with the regular minimum wage
In 1996, former Godfather's Pizza CEO Herman Cain, head of the National Restaurant Association (NRA), convinced Congress to decouple the two wages.

The tipped minimum has been stuck at $2.13 ever since.

20 states use the federal tipped sub-minimum wage of $2.13
22 states are between $2.13-$5.00, including DC ($3.33)
Median wage including tips is around $9
—
Eliminating the 2 Tier Wage System by Guarantee Minimum Wage for Restaurant Workers
7 states guarantee a equal single minimum wage to all workers, before tips
Alaska, California, Minnesota, Montana, Nevada, Oregon, Washington
—
Restaurant Rights Campaigns
Fight for 15

The Fight for $15 began in 2012 when two hundred fast-food workers walked off the job to demand $15/hr and union rights in New York City.  Since then "Fight for 15" has become a global movement in over 300 cities on six continents working towards better wages and unions.

One Fair Wage Campaign
DC Campaign

The "Fight for $15" DC campaign won  legislation to raised the DC minimum wage to $15 an hour by 2020

But tip employees we're left out and will only get $5.55 an hour, a raised from $3.33
ROC's One Fair Wage Campaign is working on ballot initiative 77 (2018) to raise the minimum wage for restaurant workers to $15 like the rest of DC workers.
Restarunt Opportunity Center (ROC) National Diners Guide App

A consumer guide on the working condition of American restaurants.  This guide provides information on the wage, benefits, and promotion practices of the 150 most popular restaurants in America – from Red Lobster to Subway to Chipotle. The Guide also lists responsible restaurants in several major U.S. cities where you can eat knowing that your server can afford to pay their rent and your cook does not have to work while sick.
Real Food Media

Organizing tool kits, education and films around organizing food workers
—
—
Artwork Source:  Asheville Sustainable Restaurant Workforce
—
---
Environmental Racism
"Environmental Racism is any environmental policy, practice, or directive that differentially affects or disadvantages (whether intended or unintended) individuals, groups, or communities based on race or color. Low income persons and people of color are exposed to greater environmental risks than white or affluent communities"  DR. Robert Bullard, Father of Environment Justice
—
—
North Carolina Pig Farming Industry
In North Carolina there are estimated 10 million pigs in the farming industry creating waste equivalent to 100 million humans.  There are no septic systems for these farms.  They are stored in giant lagoons that are periodically emptied by spraying the sewage over fields.  These lagoons often pollute groundwater and the sprays often drift to nearby poor minority communities.  Nearby residents complain that it's literally raining hog waste when the sprays hit the right wind.  People living near these lagoons experience horrible smells daily and health problems such as asthma, diarrhea, eye irritation, depression, blood pressure increases, neurological issues, lung issues, cancer and other health problems.  The local residents are left with little recourse.
According to a 2017 Observer article:
"An analysis conducted by WaterKeeper Alliance found that out of 2,246 pig concentrated animal feeding operations in the state, only 12 have been required to obtain permits under the Clean Water Act. The rest operate under lax state permit guidelines. A 2014 study conducted by University of North Carolina at Chapel Hill found that black people are 1.54 times more likely to reside near these hog operations in North Carolina than white people, Hispanics are 1.39 times more likely, and Native Americans are 2.18 times more likely."
Observer: Feces From Hog Farming Is Poisoning Black Communities in North Carolina
NY Times: North Carolina's Noxious Pig Farms
—
"A federal jury has decided the world's largest pork producer, Smithfield Foods, should pay $473.5 million to North Carolina residents neighboring its factory farms. Residents sued Smithfield Foods for "unreasonable nuisances" they suffered from odors, flies, and rumbling trucks, according to The Associated Press. This news comes just weeks after two related lawsuits awarded residents damages of about $75 million.
Smithfield reportedly failed to take measures to minimize the problems, like covering waste pits or otherwise capturing the smell and bacteria from liquefied waste, according to lawyers for the complainants.
And Smithfield's response? Agribusiness executives and agriculture officials from North Carolina, Georgia, Delaware, and Texas have met with federal officials, such as Senator Thom Tillis and Representative David Rouzer. Both officials suggested they might seek federal legislation to protect the agriculture industry.
Pork producers not only demonstrate a blatant disregard for surrounding communities; they treat the animals they raise like meat-producing machines.
—
—
"The price of our groceries isn't just what we pay at the checkout counter ― it's also the violent killings of environmental activists that reached record levels last year.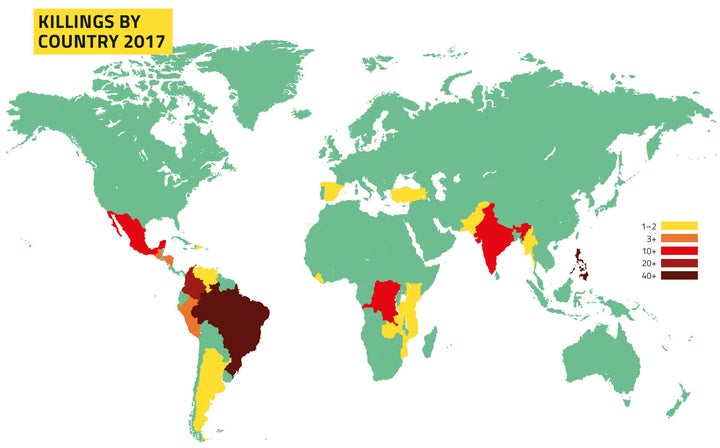 Killings of environmental defenders by country in 2017, according to Global Witness.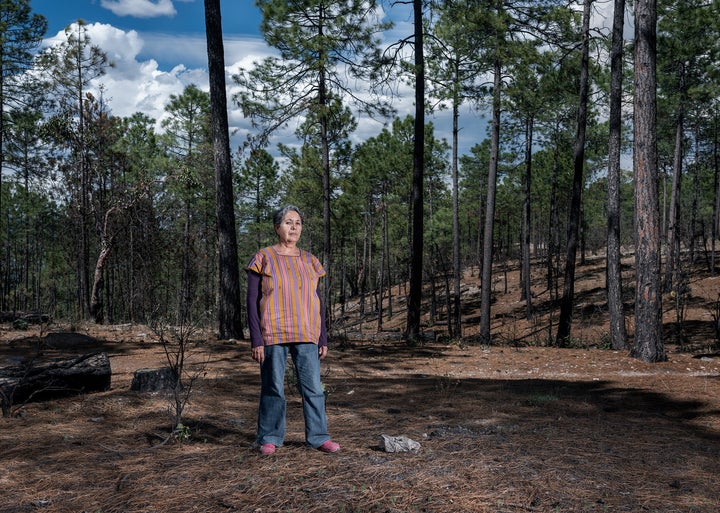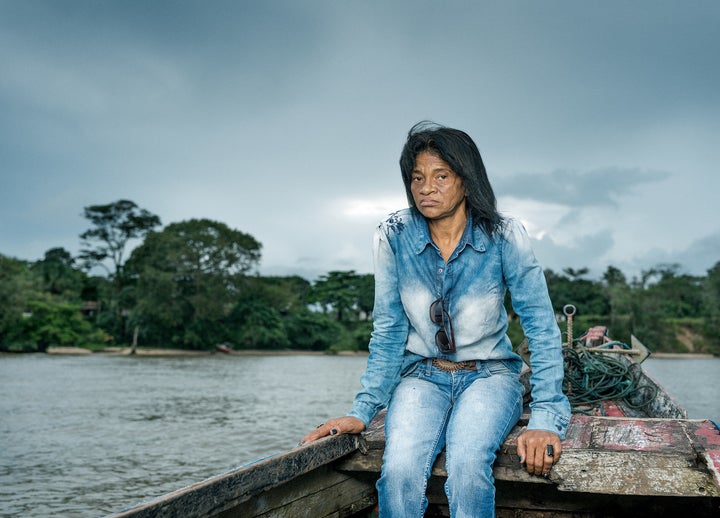 Amid a welter of worrying developments in the new report, Leather said that female environmental defenders were now facing "specific and heightened threats" of sexual violence, abuse and harassment ― sometimes from within their community.
The business community has demonstrated what it is willing to do to guarantee its investments in Latin America, but the people have said that to defend our land is to defend our subsistence. Bertha Zúñiga Cáceres, daughter of slain environmental activist Berta Cáceres
—
---
Food Apartheid
—
"Food apartheid is a human-created system of segregations, which relegates some people to food opulence and other people to food scarcity. It results in the epidemic of diabetes, heart disease, obesity, and other diet-related illnesses that are plaguing communities of color." Leah Penniman, the director of Soul Fire Farm
—
"Food apartheid is a relentless social construct that devalues human beings and assumes that people are unworthy of having access to nutritious food. Food apartheid affects people of all races, including poor white people, although Black and brown people are affected disproportionately. Under these conditions — which are overtly abusive — whole communities are geographically and economically isolated from healthy food options" Jacqueline Bediako
—
"Now we're calling it (food deserts) what it is — it's food apartheid. It's something that's planned. A desert is natural. It's manufactured by the planet. This is planned, and it's obvious." Toni Lawson, a longtime DC Ward 8 resident.
—
WAMU: Where Eating Healthy Means Trekking Out Of A Food Desert
More than 80 percent of food deserts in the District are in neighborhoods with the highest poverty rates, populated by minority residents. There are plenty of big-box grocery stores and independently owned supermarkets in whiter and wealthier parts of town, like Northwest D.C.
A food desert is defined as an area where:
The walking distance to a supermarket is more than 0.5 miles,
More than 40 percent of households have no vehicle available, and
The median household income is well below the federal poverty level for a family of four
—
"Access to healthy food should not be a luxury. Yet 1 in 7 District households struggle with food insecurity. And East of the River (majority black residents), limited options for buying fresh affordable food restricts people's ability to make healthy choices for their families.There are only 3 full service grocery stores for over 148,000 people in Wards 7 and 8 combined, making it difficult for many residents– especially the 47% who have no access to a personal vehicle and the 17% who have a disability– to get to fresh healthy food. This is the result of policies and practices that have chronically underinvested in communities of color and our food system.
Your zipcode should not determine your life expectancy. Yet on average, Ward 2 (majority white) residents live 16 years longer than Ward 8 residents . And East of the River, people are dramatically more likely to have and die from chronic diet-related disease– Ward 8 residents are 5 times more likely to die from diabetes than Ward 3 (majority white) residents. Access to healthy food is a public health equity issue."
DC Greens
—

—
"Fast food franchises appear suddenly in Black communities like a jack-out-of-a-box, occupying corners close to houses, schools and malls. These franchises function as pimps, pasting seductive images of fast food on windows to grab the attention of those passing by and ignite hunger pangs in residents who are too weak or defeated to demand anything better.
Franchises function as money-making machines, growing exponentially within Black communities, serving junk disguised as food. This junk triggers chronic, irreversible diseases such as diabetes and heart disease; these diseases are left to run through Black bodies like electricity at night.
It seems fast food has become the "McMighty" killer of Black people, but their deaths are insignificant because driving up profits is more important than Black lives. Generating cash to fund holidays, cars and lavish homes happens at the expense of Black life. And Black life has always been used to maximize profit. Essentially, it was the labor of Black slaves that enabled America to accumulate an unprecedented amount of wealth, and today building wealth just sings a different tune…
…Food apartheid is a relentless social construct that devalues human beings and assumes that people are unworthy of having access to nutritious food. Food apartheid affects people of all races, including poor white people, although Black and brown people are affected disproportionately. Under these conditions — which are overtly abusive — whole communities are geographically and economically isolated from healthy food options…
…The body is linked to the mind, and a healthy, functioning mind is also dependent on a nourished body. With a foggy mind, one cannot be productive, develop intellectually and challenge the status quo. Bad food helps to keep hearts and minds weak, and people in a malleable state of submissiveness.
The Black Panthers understood the connection between nutrition and academic performance, or the mind-body connection, and it was this understanding, among other things, that drove them to create The Free Breakfast Program, a revolutionary program that provided breakfast for poor Black children. Today, we see Black children are targeted by fast food franchises, whose logic lies in the belief that if you "get them while they're young" they will be lifelong consumers of bad food.
Just like drugs destroyed Black communities and Black minds to eradicate the intellectuals orchestrating the civil rights movement, bad food also functions as a killer and an intellectual sap. And let's not forget that some of these foods are addictive, thereby serving the same debilitating function as drugs.
The inhumanity of food apartheid is lodged in the acceptance of capitalism. So perhaps it's not "our" food that's killing us, but the food transplanted into our communities by capitalist crusaders.
—
The Invisible Vegan is a 90-minute independent documentary that explores the problem of unhealthy dietary patterns in the African-American community, foregrounding the health and wellness possibilities enabled by plant-based vegan diets and lifestyle choices. Over the past three decades, obesity, coronary heart disease, and diabetes have steadily grown as the leading causes of health problems in America, disproportionately impacting the African-American community in particular. This documentary offers both historical and contemporary perspectives on the dietary trends among African-Americans, showing how intertwined histories of slavery, twentieth-century socioeconomic inequalities, and the rise of Big Food, have led to the increased consumption and dependence on meat, processed, junk, and fast food.
---
Food Sovereignty
—
"Food sovereignty is the right of peoples to healthy and culturally appropriate food produced through ecologically sound and sustainable methods, and their right to define their own food and agriculture systems. It puts those who produce, distribute and consume food at the heart of food systems and policies rather than the demands of markets and corporations." La Vía Campesina
—
"Land is the basis of all independence. Land is the basis of freedom, justice, and equality." —Malcolm X
—
—
Food First: Dismantling Racism in the Food System series
Food—Systems—Racism: From Mistreatment to Transformation
Despite its pervasiveness, racism is almost never mentioned in international programs for food aid and agricultural development. While anti-hunger  and food security programs frequently cite the shocking statistics, racism is rarely identified as the cause of inordinately high rates of hunger, food insecurity, pesticide poisoning and diet-related disease among people of color. Even the widely-hailed "good food" movement—with its plethora of projects for organic agriculture, permaculture, healthy food, community supported agriculture, farmers markets and corner store conversions tends to address the issue of racism unevenly. Some organizations are committed to dismantling racism in the food system and center this work in their activities. Others are sympathetic but are not active on the issue. Many organizations, however, see racism as too difficult, tangential to their work, or a divisive issue to be avoided. The hurt, anger, fear, guilt, grief and hopelessness of racism are uneasily addressed in the food movement—if they are addressed at all…
…Calls to "fix a broken food system" assume that the capitalist food system used to work well. This assumption ignores the food system's long, racialized history of mistreatment of people of color. The food system is unjust and unsustainable but it is not broken—it functions precisely as the capitalist food system has always worked; concentrating power in the hands of a privileged minority and passing off the social and environmental "externalities" disproportionately on to racially stigmatized groups.
Statistics from the US confirm the persistence of racial caste in the food system: African-Americans once owned 16 million acres of farmland. But by 1997, after many decades of Jim Crow, several national farm busts and a generally inattentive (or obstructionist) Department of Agriculture (USDA), less than 20,000 Black farmers owned just 2 million acres of land. The rateof Black land loss has been twice that of white land loss and today less than 1 million acres are farmed. According to the USDA 2012 Census of Agriculture, of the country's 2.1 million farmers, only 8 % are farmers of color and only half of those are owners of land. Though their farm share is growing (particularly among Latinos, who now number over 67,000 farmers), people of color tend to earn less than $10,000 in annual sales, produce only 3% of agricultural value, and farm just 2.8% of farm acreage.
While white farmers dominate as operator-owners, farmworkers and food workers—from field to fork—are overwhelmingly people of color. Most are paid poverty wages, have inordinately high levels of food insecurity and experience nearly twice the level of wage theft than white workers. While white food workers' average incomes are $25,024 a year, workers of color make only $19,349 a year. White workers hold nearly 75% of the managerial positions in the food system. Latinos hold 13% and Black and Asian workers 6.5%.  The resulting poverty from poorly paid jobs is racialized: Of the 47 million people living below the poverty line in the United States, less than 10% are white. African-Americans make up 27% of the poor, Native Americans 26%, Latinos 25.6% and Asian-Americans 11.7%.  Poverty results in high levels of food insecurity for people of color. Of the 50 million food insecure people in the US 10.6% are white, 26.1% are Black, 23.7% are Latino and 23% are Native American. Even restaurant workers—an occupation dominated by people of color (who should have access to all the food they need)—are twice as food insecure as the national average.
Race, poverty and food insecurity correlate closely with obesity and diet-related disease; nearly half of African-Americans and over 42% of Latinos suffer from obesity. While less than 8% of non-Hispanic whites suffer from diabetes, 9% of Asian -Americans, 12.8% of Hispanics, 13.2 % of non-Hispanic African Americans and 15.9 % of Indigenous people have diabetes. At $245 billion a year, the national expense in medical costs and reduced productivity resulting from diabetes are staggering. The human and economic burdens of diabetes and diet-related disease on low-income families of color are devastating.
Trauma, Resistance and Transformation:  An equitable food system is possible
Recognizing racism as foundational in today's capitalist food system helps explain why people of color suffer disproportionately from its environmental externalities, labor abuses, resource inequities and diet related diseases. It also helps explain why many of the promising alternatives such as land trusts, farmers' markets, and community supported agriculture tend to be dominated by people who are privileged by whiteness. Making these alternatives readily accessible to people of color requires a social commitment to racial equity and a fearless commitment to social justice. Ensuring equity of access to healthy food, resources and dignified, living wage jobs, would go a long way towards "fixing" the food system.
The trauma of racism is inescapable. In addition to the pain and indignity of racialized mistreatment, people of color can internalize racial misinformation, reinforcing racial stereotypes. While white privilege benefits white communities, it can also immobilize them with guilt, fear and hopelessness. Both internalized racism and white guilt are socially and emotionally paralyzing, and make racism difficult to confront and interrupt. Difficult, but not impossible.
Since before the Abolition movement and the Underground Railroad of the mid-1800s, people have found ways to build alliances across racial divides. The history of the US food system is replete with examples of resistance and liberation: from the early struggles of the Southern Tenant Farmers Union to the Black Panther's food programs and the boycotts and strikes by the United Farm Workers. More recently, the Food Chain Workers Alliance have fought for better wages and decent working conditions. The increase of local food policy councils run by people of color and the spread of Growing Power's urban farming groups reflect a rise in leadership by those communities with the most at stake in changing a system that some have referred to as "food apartheid." Oppressed communities have developed ways of healing historical trauma and there are peer counseling groups with skills for working through the immobilizing feelings of internalized oppression, fear, hopelessness and guilt. All of these resources and historical lessons can be brought into the food movement.
Racism still stands in the way of a "good food revolution." If the food movement can begin dismantling racism in the food system—and within the food movement itself—it will have opened a path not only for food system transformation, but for ending the system of racial caste."
—
MLK Jr & The Inconvenient Socialism that Built USA
—
"Racism is built into the DNA of the United States' food system. It began with the genocidal theft of land from First Nations people, and continued with the kidnapping of my ancestors from the shores of West Africa. Under the brutality of the whip and the devastation of broken families, enslaved Africans cultivated the tobacco and cotton that made America wealthy.
But the story doesn't end with the Emancipation Proclamation. Later came convict leasing, a form of legalized slavery that kept many Southern black people on plantations—in some places until the late 1920s. Just a few decades later, Congress created the migrant guest-worker program, which imported agriculturalists from Mexico and other countries to labor in the fields for low wages.
All of this history combines to produce the racism I see today in my work as a farmer and activist for food justice. Farm management is among the whitest professions, while farm labor is predominantly brown and exploited. Meanwhile, people of color tend to suffer from diet-related illnesses such as diabetes and obesity, and to live in "food apartheid" neighborhoods—high-poverty areas flooded with fast food and corner stores, but lacking healthy food options. While some writers refer to these areas as "food deserts," I prefer the term "food apartheid" because this is a human-created system of segregation, not a natural ecosystem.
Our food system needs a redesign if it's to feed us without perpetuating racism and oppression.
With this new administration, that's even truer today than before. After the election of a presidential candidate who ran on a racist, misogynistic, and xenophobic platform, the power of white supremacy in the United States is laid bare. Just as our ancestral mothers braided seeds of rice and okra into their hair before boarding slave ships, believing in a future of harvest in the face of brutality, so must we maintain courage and hope in these terrifying times.
As we work toward a racially just food system, abandoning the "colonizer" mentality that first created the problems is crucial. The communities at the frontlines of food justice are composed of black, Latino, and indigenous people, refugees and immigrants, and people criminalized by the penal system. We need to listen before we speak and follow the lead of those directly affected by the issues.
This article offers four infographics that explain different aspects of the problem. It also contains two solutions for each of them—some of the systemic changes we'd need to fully address it, and a way for individuals to take action. I hope these can be practical seeds of hope toward a racially just food system.
Uphold everyone's right to land
After decades of discrimination by the federal government, Black farmers have lost almost all of our land. Reparations for past harm are the first step to justice.
System Shift: Where possible, land and wealth must be redistributed to the descendants of those from whom it was stolen. Some first steps would be to pass the bill H.R. 40, which would establish a commission to study reparations proposals for African Americans, and to create debt forgiveness programs for farmers affected by discrimination. We must also halt and reverse the grabbing of land from tribal nations, such as we've seen at Standing Rock and Bears Ears.
As Ralph Paige of the Federation of Southern Cooperatives has put it, "Land is the only real wealth in this country, and if we don't own any we'll be out of the picture."
Since land loss in the black community is ongoing, we need to intervene by supporting land trusts, which are community organizations that hold property for the common good. Land trusts can purchase and temporarily hold black-owned land after foreclosure, the death of the owner, or amid a legal dispute. Organizations such as the Land Loss Prevention Project, which provides legal support to black landowners trying to keep their farms alive, need our backing.
Plant Your Seed: Read the HEAL Food Alliance and Movement for Black Lives Policy Platforms, which offer pathways for land reparations and a just food system. Take a moment to appreciate the brilliance of the text and then host a discussion group at your congregation or workplace with the goal of having these organizations endorse and implement these platforms.
2. Honor the people who grow our food
The U.S. does not provide a living wage, health care, or labor protections to the farmworkers who feed us. It's time to update the law and stop exploiting agricultural workers.
System Shift: The people who feed our families deserve full protection under the National Labor Relations Act and Fair Labor Standards Act, which should both be amended to remove exclusions for farmworkers. All workers deserve the same rights, including minimum wage, collective bargaining rights, and protections from child labor.
Since many are not citizens, immigration reform is needed to create pathways to full citizenship for farmworkers and their families. Let's join Movimiento Cosecha—one of the organizers of the "Day Without Immigrants " event planned for May 1—in calling for permanent protection, dignity, and respect for the 11 million undocumented people in this country.
Beyond that, farmworkers need pathways that allow them to advance to management and ownership of farms. Programs like the National Black Farmers Association "Let's Get Growing" program and Soul Fire Farm's Black and Latino Farmers Immersion, which focus on training farmers of color, need support so they can equip farmworkers to become managers. (Full disclosure: I co-direct Soul Fire Farm).
Plant Your Seed: Encourage your local farmers, supermarkets, and cafeterias to join the Domestic Fair Trade Association and to seek Food Justice Certification through the Agricultural Justice Project. Both groups uphold high standards for fair treatment of workers and care of the environment.
3. Eliminate Food Apartheid
Communities of color have less access to life-giving, healthy food, resulting in high rates of obesity and diabetes. Policies and actions that boost community control are part of the answer.
System Shift: Healthy food is a basic human right, not a privilege for the wealthy. To honor this right, we need to fully fund the Supplemental Nutrition Assistance Program (SNAP) and make it easier to use by allowing online purchasing and providing higher allowances. The Affordable Care Act—currently threatened by Republican elected officials—should be updated to allow doctors to prescribe vegetables and fruits, not just pills, as some organizations in New York state are already doing. Insurance companies need to cover this "medicine" as well.
Ultimately, we are working toward food sovereignty, where all people exercise the right to control our own food systems—including in cities. Passage of the Urban Agriculture Act of 2016, introduced by U.S. Sen. Debbie Stabenow of Michigan, would allow urban farmers to be counted in the Census of Agriculture and receive government support for the programs they run, such as community composting and school gardens. Further, food sovereignty can be aided by requiring that community food projects hire locally and have local residents on their decision-making boards.
Plant Your Seed: Catalyze your community to raise funds to help your local farmer provide affordable produce to the most vulnerable—refugees, incarcerated people, and those living in food deserts. Organizations such as the Corbin Hill Food Project and D-Town Farm have models for doing this, using sliding scale pay systems, doorstep delivery, and farmers markets near neighborhood schools.
4. Support Farmers of Color
Access to education and start-up funding remain barriers for aspiring farmers of color. Some federal programs have made progress, but need more funding to meet the scale of the challenge.
System Shift: To make small-scale sustainable farming a viable career, we need to pay farmers for stewarding the public trust.
In Costa Rica, the government pays responsible farmers for "ecosystem services" like protecting pollinators, sequestering carbon in the soil, and preserving waterways. The United States could create a similar program, perhaps funded through a tax on the large-scale farms that are driving climate change, extinction, and soil erosion. The USDA's Environmental Quality Incentives Program, which provides technical and financial support for farmers to implement conservation plans, is a start. The program has been getting better at reaching farmers of color, but it needs investment and expansion.
The USDA's Socially Disadvantaged Farmers Grant (also known as the 2501 program) is another key program that's designed to help farmers of color. But it needs to be made more accessible by increasing funding, easing the onerous application process and reporting requirements, and offering technical assistance to access the funds.
Education is another piece of the solution. To support aspiring farmers of color, we need to provide full scholarships to land grant universities and other agricultural degree programs. Currently, many of these programs are geographically inaccessible to people of color. To address this barrier, satellite "campuses" on urban and rural farms owned by black, Latino, and indigenous people can be developed. These training programs must explicitly address racism in the food system and provide support for healing from land-based trauma.
Plant Your Seed: Put your skills to work supporting a farmer or food business owner of color. Farmers often don't have enough time to attend to the administrative aspects of their operation, like grant writing, web design, social media, marketing, legal research, and blogging. A partial directory of black-operated farms can be found at this Google doc maintained by the staff at Blavity.com. Reach out to see if you can help."
—
"The food justice movement is one of the most promising political developments of the last generation. It has broadened and deepened environmentalism by knitting together concerns about economic inequality, labor rights, environmental health, and sustainable agriculture. But what often goes unmentioned in our discussions of food justice is that it all begins with land—who owns it, how they own it, and how it gets passed down from one generation to the next. This is something Savi Horne never forgets: food justice requires land justice.
As Executive Director of the Land Loss Prevention Project, Savi Horne helps use the power of the law to keep African Americans farmers in North Carolina from losing their land to indebtedness, legal challenges, and gentrification, while offering technical support for farmers to make their enterprises economically viable and environmentally sustainable…
…The Federation of Southern Cooperatives, which just celebrated its 50th anniversary. Imagine: an African American institution devoted to community economic development and built in its very beginning more than 120 co-ops has survived for 50 years and continue to grow. It's astounding.
This model is still important to keeping rural communities vital. And communities everywhere. Look at Detroit where the 2008 recession stripped African Americans of wealth. It allowed the city to get to a place where it has become ripe for the picking for anyone with a little (or a lot) of money. People who are not black are acquiring what was the foundation of the leading black middle class in the country.
African Americans cannot afford to participate in the reclaimed "new Detroit" because our economics are still jacked up from 2008. Yet still, organizing around land, community sustainability, and food justice came to the fore and is allowing the black community to reinvision themselves in the city, to grow food, to sustain themselves. There is now a collectively owned grocery co-op as well as the Detroit Food Justice Network.
We have to all benefit from the land. Maybe the form of ownership we have won't work for future generations. Maybe the simple, absolute ownership is not the way forward…
…Dr. Jessica Gordon Nembhard's book Collective Courage: A History of African American Cooperative Economic Thought and Practice shows how, historically, cooperatives and mutual aid societies have built wealth within our communities. I have a real, live example from North Carolina of a group of 30-somethings coming together over a period of six to ten years, saving their money collectively, and planning a collective farm. They named it Earthseed. (I'm thinking Octavia Butler is smiling down on them.) It's a totally integrated, holistic plan aimed at growing food but also nurturing our souls. Today they are close to about 60 acres, a stone's throw away from the center of Durham."
—
Food, Race and Justice – Malik Yankini
—
Families could work for a few hours and carry home a bushel of produce in exchange. "You can give a man some food, and he'll eat it," she liked to say, in a paraphrase of the common proverb. "Then he'll only get hungry again. But give a man some ground of his own and a hoe, and he'll never go hungry again."
Mrs. Hamer began this work in the midst of an agricultural crisis. The South had begun to shift from labor-intensive family farms and plantations, hoed and harvested by men and women, to equipment-intensive farms with less need for labor. During the Great Migration, African-Americans had quit the region to claim manufacturing and service jobs in the North and the West.
This reinvention pushed more than three million farmers and their families off the land, including more than half a million African-Americans, abetted by discrimination against black farmers by the Department of Agriculture. Mrs. Hamer argued that a Johnson administration shift from commodity food distribution to a discounted food stamp purchase program, which too few could afford, had made matters worse. In a letter urging President Lyndon Johnson to bring back the troops he had sent to Vietnam and the Dominican Republic, Mrs. Hamer wrote, "If this society of yours is a 'Great Society,' God knows I'd hate to live in a bad one."
For black Southerners, relationships to the land were tangled and tragic. Mrs. Hamer's life embodied those tragedies. While cropping the Delta, her enslaved grandmother Liza Bramlett had given birth to 23 children. All but three resulted from rapes by white men. Lou Ella Townsend, Mrs. Hamer's mother, was one of those three.
To earn a living during the Depression, Mrs. Townsend scavenged scrap cotton from picked-over fields, slaughtered pigs for neighbors in exchange for parts and tended a backyard garden. When she worked the fields, she hid a gun in her lunch pail to protect her children. To feed her family, she cut the skin of potatoes and the top of beets and served them with bread and salted onions. She also washed clothes in exchange for milk and butter.
Throughout Mrs. Hamer's life, poverty and hunger would haunt her. As a child working the cotton fields of Mississippi, in bare feet wrapped with rags, she had gone hungry. When one of her daughters was a teenager, doctors fed her glucose to stave off malnutrition. Looking back on her mother's work as an itinerant butcher, Mrs. Hamer recognized that livestock husbandry could be a solution.
With the help of Dorothy Height, the president of the National Council of Negro Women, she developed a Pig Bank in Sunflower County in 1969. Conceived as a complement to Freedom Farm, the idea was innovative and, for the moment and place, odd. Beginning with 35 gilts and five boars, she gave pregnant pigs to Delta families who agreed to care for them, return the mother pig to the bank and keep the remaining piglets as dividends. Poor families butchered those dividends once they reached an acceptable weight.
Instead of buying ham and lard from a plantation commissary, Ms. Height bragged, Delta women went a year without store-bought pork. The Pig Bank built pride. "I don't be ashamed when someone comes here," Mrs. Hamer said in 1972, "and I can go in the kitchen and fry some ham."
By year two, 100 families slaughtered pigs in the fall, froze the meat and roasted hams for winter suppers. A cooperative gardening project followed. "When you've got 400 quarts of greens and gumbo soup canned for the winter, nobody can push you around or tell you what to say or do," Mrs. Hamer said.
She preached the differences between the interracial cooperative farm she organized and the white-owned plantations where she was raised. She argued that Freedom Farm and Pig Bank subverted that past. White funders grasped the promise. But many black farmers and the children of black farmers failed to grasp the difference between cropping cotton for white planters and raising beans and corn for a black-majority cooperative.
The managers of the project fumbled, Mrs. Hamer's health deteriorated, and her right-hand man suffered a heart attack. Her Freedom Farm and Pig Bank lost momentum. In a 1973 report, officials described the farm as "a dream struggling to survive."
Mrs. Hamer and her colleagues tried to incorporate the beliefs of the Black Power movement and the essence of Malcolm X's declaration that "land is the basis of all independence. Land is the basis of freedom, justice, and equality." Even though her work achieved only a short-term success, it presaged our nation's contemporary focus on food sovereignty as a solution to malnutrition.
In this moment, when fried chicken and shrimp and grits have become national folk dishes, talk of Southern food too often relies on comfort food simplicities or antebellum conceits. The work of Fannie Lou Hamer makes it clear that the South has served the nation as more than a place to situate (and eat) good food.
In the South, America has identified food-system problems and developed solutions. Today, as Americans agitate for food sovereignty, the bold agricultural ideas conceived in the late 1960s by Fannie Lou Hamer and other radical Southerners suggest paths for us to follow out of our food deserts."
—
"Young people now, Johnson said, were born after the Black Panther Party's most active days, "but a lot of them had free breakfast in their schools. And a lot of them don't know why." The Panthers' breakfast program started in January 1969 at St. Augustine's Episcopal Church in Oakland. Ruth Beckford-Smith, a parishioner who taught Haitian dance at the church, volunteered to be one of the program's co-organizers.
Eleven children ate at St. Augustine's on the first day. By the end of the year, the organization fed 20,000 kids in 19 cities across the country in the morning before they went to school. The program also disrupted gender norms by featuring male cooks — even if doing so did not always hold outside of the kitchen.
"The food component of the BPP was a big part of our organizing," Melvin Dickson, an organizer for the Oakland breakfast program said. "This included our free breakfast program. Because one thing you can guarantee in an oppressed community is that you're going to find hunger. The fact that the United States has more food than we need, and folks are still going hungry is a shame, it was a shame then, and it's a shame now."
Five years after former President Lyndon B. Johnson's declared a war on poverty during his 1964 State of the Union address, the Panthers' breakfast programs were an indication of the initiative's limits. Between 1969 and 1971, the Panthers established 36 breakfast programs across the country from Kansas City to New York City. It's estimated that over time, the Panthers fed 50,000 across the country through their program…
…They were achieving where the government was failing. The breakfast program, along with the Panthers' 59 other Serve the People programs that provided clothing, free medical care, and legal aid, ultimately made them most dangerous because they were becoming more influential.
Hoover declared war on the Panthers, pledging that 1969 would be their final year in operation. The party eventually disbanded in the early 1980s, but not without seeing the US government take its lead. Their work ultimately inspired amendments to the Child Nutrition Act of 1966 and served as the blueprint for establishing the government's School Breakfast Program as a permanent program in 1975. According to the Food Research and Action Center, on average 13.2 million children received a free meal through that program each day during the 2013-'14 school year."
—
Free The Land: Shirley Sherrod and Black Land Struggles in the South
—
"As staff at Soul Fire, we were attempting to meet a challenge presented to us by Curtis Hayes Muhammad, the veteran civil rights activist: "Recognize that land and food have been used as a weapon to keep black people oppressed," he said, while sitting at our dinner table months earlier. "Recognize also that land and food are essential to liberation for black people."
Muhammad explained the central role that black farmers had played during the civil rights movement, coordinating campaigns for desegregation and voting rights as well as providing food, housing, and safe haven for other organizers. With his resolute and care-worn eyes, immense white Afro, and hands creased with the wisdom of years, this was a man who inspired us to listen attentively so that we might stand on the shoulders of activists who had gone before.
"Without black farmers, there would have been no Freedom Summer—in fact, no civil rights movement," he said.
Arguably, the seminal civil rights issue of our time is the systemic racism permeating the criminal "justice" system. The Black Lives Matter movement has brought to national attention the fact that people of color are disproportionately targeted by police stops, arrests, and police violence. And once they're in the system, they tend to receive subpar legal representation and longer sentences, and are less likely to receive parole. The deaths of Eric Garner and Michael Brown were not isolated incidents, but part of a larger story of state violence toward people of color.
And yet, that state violence is only one among many dangers. The biggest killers of black Americans today are not guns or violence, but diet-related diseases, including heart disease, cancer, stroke, and diabetes. These illnesses affect minorities at greater rates than white people, in part because of a broken food system that allows only certain populations to access healthy food while subsidizing low-quality food for the rest.
Black youth are well aware that the system does not value their lives.
"Look, you're going to die from the gun or you are going to die from bad food," one young man said while visiting Soul Fire Farm. "So there is really no point."
This fatalism, a form of internalized racism, is common among black youth. It's a clear sign that this country needs a united social movement to rip out racism at its roots and dismantle the caste system that makes these young people unable to see that their beautiful black lives do matter.
Because society's racism is glaringly apparent in the criminal justice system, many activists are building the foundation of the movement we need by starting there.
In 2009, black farmer and prison abolitionist Jalal Sabur helped to start the Freedom Food Alliance, a collective of farmers, political prisoners, and organizers in upstate New York who are committed to incorporating food justice to address racism in the criminal justice system…
…One of the Freedom Food Alliance's central efforts is Victory Bus Project, a program that reunites incarcerated people with their loved ones while increasing access to farm-fresh food. The New York State Department of Corrections once operated free buses for visitors to all 54 facilities across the state, but shut the program down in 2011 for budgetary reasons, leaving many of its 2,120 monthly passengers with no way to see their family members.
Sabur purchases produce and eggs from local farmers and puts together large food packages, which families of prisoners can purchase for $50 using SNAP/EBT (formerly known as food stamps). Once they purchase the food, families get a free round trip to visit their loved ones at correctional facilities in upstate New York. Families may choose to give the food to prisoners as a care package, take it home, or both. While on the bus, Jalal facilitates conversations about the prison-industrial complex and food justice, using texts such as Michelle Alexanders's The New Jim Crow.
Soul Fire Farm joined the Freedom Food Alliance in 2014, supporting the Victory Bus Project with produce and providing a place to work and learn for young people enrolled in Project Growth, Albany County's new restorative justice program. Advocates of restorative justice argue that incarceration and other forms of punishment brought by the state against an assumed or convicted offender escalate a cycle of violence, and that it makes more sense for a person who has harmed another to restore the relationship. The only problem is that it often means paying out. A teenager who's damaged a vehicle, for example, would need to pay the owner for the cost of repairs. These payments are known as restitution.
A longtime friend of mine and customer of Soul Fire Farm, Jillian Faison works as an attorney for Albany County. She says that restitution was the main sticking point when she advised the county's Department of Law to try out restorative justice. The courts hesitated to require teenagers to pay restitution because they had no means to acquire the funds. It was simpler to mandate more punitive measures.
"There needs to be a way for the youth to earn money to compensate their victims and have a meaningful work experience in the process," Faison explained.
After researching the strongest restorative justice programs in the United States, Jillian helped to create Project Growth in 2013 and brought Soul Fire Farm on as the pilot partner.
The following year, Project Growth brought small groups of convicted teenagers to nonprofit organizations such as Albany City Rescue Mission, Senior Services of Albany, and Soul Fire Farm for internships where they learned job skills and earned money to pay their restitution. Most of them owed their victims less than $500 and kept their wages once those obligations were met. Project Growth's pilot year was funded by the Albany County Legislature and designed by Mission Accomplished Transition Services and Soul Fire Farm.
For the staff at Soul Fire Farm, Project Growth was about more than just restitution. We agreed with the position of Malcolm X in his "Message to Grass Roots," a speech he delivered in 1963. "Revolution is based on land," he said. "Land is the basis of all independence. Land is the basis of freedom, justice, and equality." We saw Project Growth as an opportunity for these young men to heal relationships with their communities, the land, and themselves, as well as to recognize their potential to be agents of change in society. We wanted to make sure the participants knew we saw them as valuable human beings right from the start. So, on the first day, we began by asking for their stories.
"My original charge was loitering, and then once I was in the system, everything got harder and started getting out of control," said a young man named Ben. As others spoke, we learned that his story was not unique—in fact, most of the young men's first arrests had been for loitering. I shared with the group that loitering laws were part of the vagrancy statutes included in the Black Codes. These were laws written to control the black population after Reconstruction, a set of policies that followed the Civil War. The teens started to make eye contact…
…For generations, black activists have made sure that farms and food played a role in the struggle for civil rights and dignity. Today, we stand on the shoulders of Fannie Lou Hamer, who created the Freedom Farm Cooperative in Mississippi in 1969 to provide food, housing, and education to families targeted by racism in the Delta. We stand on the shoulders of the Black Panthers, who created free breakfast programs for children and other essential community survival initiatives across the United States in the 1960s. We stand on the shoulders of Dr. Martin Luther King Jr., who both inspired and supported the 1965–1970 Delano Grape Boycott, a campaign to create just working conditions for Latino farmworkers.
But land and food have also been used as a weapon to keep people of color in second-class citizenship. The U.S. government sanctioned the slaughter of buffalo to drive Native Americans off of their land. And the United States Department of Agriculture and the Federal Housing Administration denied access to farm credit and other resources to any black person who joined the NAACP, registered to vote, or signed any petition pertaining to civil rights.
According to the think tank Race Forward, even today, blacks, Latinos, and indigenous people are more likely than whites to earn lower wages, receive fewer benefits, and are more likely to live without access to healthy food. Black people also own less than 1 percent of the nation's farmland, just a fraction of the 14 percent they owned in 1920.
"Police shootings are modern day lynching, and lynching was the tool used by white supremacists to drive black folks off of their valuable land and out of Mississippi," says Dr. Monica White, president of the board at the Detroit Black Community Food Security Network. "We still see a systemic failure to value black lives, in terms of policing, access to food, education transportation, etc. The issue is privilege and oppression. It's the same communities dealing with policing issues and bad food."
White's comments point to an essential truth: If we are to create a society that values black life, we cannot ignore the role of food and land. I believe that black people's collective experience with slavery and sharecropping has created an aversion to the land and a sense that the land itself is an oppressor. The truth is that without good land and good food we cannot be truly free. The Freedom Food Alliance represents one important voice among many insisting that the senseless deaths of our black brothers and sisters by all forms of violence—police shooting, diet-related illness, economic marginalization—must end.
Owning our own land, growing our own food, educating our own youth, participating in our own healthcare and justice systems—this is the source of real power and dignity.
—
---
The Fog of Urban Ag
This section is about the importance of being intentional with keeping all the community's needs first for Urban Ag projects.  Many urban Ag projects that are not intentional actually increase community divides, increase gentrification and can do more harm to a food insecure community that you're trying to help.
—
Benefits of Intentional Urban Ag
When done intentionally urban Ag benefits can include
community development
creating new community connections
community cooperatives
increasing nutrition and access to healthy food
empowering a community
recreation and therapy
youth development
—
Strategies to be Intentional
Community first model
Inclusive with the community in all aspects of the project

Outreach
Planning/ Design
Leadership
Benefits
And if you should have the project in the first place

Aware of the social trends affecting communities like gentrification and institutional racism.
Only use rodent proof designs
—
When to Be Concerned
When beneficial and sustaining food security programs and policies are replaced by the much cheaper and more hyped up urban agriculture option
Pop up/temporary agriculture
Organizations that don't put the community first
Mixing urban Ag with unregulated development
Problems with Unintentional Urban Ag
Divide a community
Contribute to gentrification, systemic racism and exclusion
Increased vandalism
Low morale/low community investment
Divert attention from more serious issues
—
Ways Unintentional Urban Ag Can Hurt Communities
Distraction
Local governments can use urban Ag to look like they care about food insecurity without addressing real causes of hunger like:

Like lack of affordable housing
Systematic gentrification due to unregulated development.
Lack of grocery store access
For example 2015 Sustainable DC plan has a goal to increase food security by ensuring that 75% of residents live within ¼ mile of a

Community garden
Farmers' market
Healthy corner store

No mention of grocery stores or affordable housing.  Never mind if

You can't get a garden plot
You have to work during farmers market hours
Your healthy corner stores are poorly stocked
2. Justifications for Negative Impacts of Gentrifying Developments
A lot of developers use gardens to try to offset the negative gentrification effects

As they build residential units that are significantly higher in property value than the average property value in the community
No garden can offset the negative impact of building high end residential units in communities that can't afford these units or can't afford the surrounding rents that may increase in the long term!!!
3. Increase Property Value Before Developing
Developers sitting on land in poor communities may wait years until the property value is increased through gentrification before they develop.
One way to increase this process while making it look like the developers care about the community is to do temporary gardens until the property value has increased
A big part of the new DC Urban Farm and Food Security Bill is tax breaks for private property owners to do temporary gardens.
4. To Fund Non Profits No One Asked For
A lot of nonprofits will use the statistics of poor communities to get grants to pay themselves to build urban Ag projects that the community never asked for
Often the non profit walks away from the project before it is ever functional to the community
Or the non profit will act as gatekeepers for any positive benefits for the community
5. Mixing Food Insecurity with For Profit Farming Incentives
The DC Urban Farm and Food Security Act of 2014 gives tax breaks to for profit farms in the name of food security with no community requirement

For example micro green farms that sell to high end restaurants will get tax breaks in the name of food security

In a capitalistic system its often not profitable to sell food to poor people
If we give our public land in poor neighborhoods to for profit farms with no obligation to give back to the community, these farms are may do what's best to keep their business financially viable

Which is to use this public resource (land in poor communities) to grow food to sell in the markets with the highest return (not the poor community).
—
Lessons of Community Inclusion from Wangari Gardens
1.Outreaching is an ongoing process
2.Outreach inside and outside social media
3.Consistent open house times
4.Find local garden advocates
5.Find preexisting networks
6.Involve community in design and leadership process
7.While recruiting help, give help
8.Garden plot requirements (give preference to low income and low term residents)
9.Free plots for low income
10.Don't rush the process
11.Public communal plots so the garden can include everyone
12.Free CSA
13.Youth programming
14.Adult education
15.Community checks and balances
16.Train the trainer program so the community can eventually take over the garden
—
"The Oakland Avenue Farmers' Market in Detroit's North End is one of those small-but-mighty neighborhood markets that accomplishes a lot with a little. Each Saturday, it offers fresh fruit, vegetables, and other healthy foods in a historically low-income and black neighborhood where such options aren't readily available.
Just as important is its contribution to the neighborhood's economy. Most of the profits generated since it launched in 2009 fund the adjacent Oakland Avenue Farm. That operation provides 13 full- and part-time time jobs that pay a living wage — also rare in the North End — in addition to teaching residents to grow and cook their own food. So supporting the Oakland Market is a small contribution to the neighborhood's economy.
However it has competition from another farm, and the Oakland Market can't beat its prices. That's because the other farm — Michigan Urban Farming Initiative — is giving away free produce every Saturday. It's run by Tyson Gersh, and, for obvious reasons, his decision to hand out produce when the Oakland Market sells food creates tension.
But it's not an isolated situation. Oakland Farm executive director Jerry Hebron and other leaders in the urban farming community say MUFI's approach and practices — intentionally or not — are undermining the city's entire urban farming movement.
Gersh brings in a lot of corporate volunteers and others from around southeast Michigan to work on several acres of city-owned land, and he receives donations from companies like GM, BASF, MiracleGro, and Stanley Black&Decker. So he's in a position to give away free food.
MUFI is also different from the Oakland Farm and Detroit's other urban farms in that its mission doesn't appear to be about food security as much as development. Instead of just a farm, Gersh is attempting to engineer an "agrihood."
Simply put, an agrihood is a fashionable urban planning concept in which a community is designed and built around a functioning urban farm that Gersh says "drives up real estate values." They exist to some degree in Detroit on Farnsworth Street or Banglatown, minus the focus on real estate value. Elsewhere in the nation, people usually build agrihoods in rural settings. Gersh's development is billed as the first sustainable agrihood and is the first in the city with an active public relations component, so he gets a lot of positive media attention from local, national, and worldwide outlets.
"I want to be Elon Musk when I grow up," Gersh says with a laugh when we discuss MUFI's branding during an interview at the North End house he rents.
But his approach and ideas are raising questions about the purpose of urban agriculture in Detroit. Should it aim to improve food security, strengthen local economies, provide jobs, and empower longtime residents? Or is it about giving away free food?
The latter charitable model may be well-intentioned, but it only addresses the symptoms, not the root causes of poverty, says Shane Bernardo, a former farmer who now works as an independent food justice and racial equity consultant.
"Neocolonial projects like MUFI demonstrate that well-intent is not enough to address the systemic issues around food security and poverty. Food security and poverty have less to do with access and more to do with structural and historical disparities around power," he says. "That's what sets charity programs like MUFI apart from more grassroots, self-determined models like Oakland Avenue, D-Town Farms, and Feedom Freedom. As long as we only address the symptoms of food security and poverty, we also perpetuate the disparities of power that create them."
It's also leading to discussion about whether urban farms should be a development tool that's wielded in struggling neighborhoods. If Gersh is successful, will other developers replicate the model and ultimately cheapen an important grassroots industry? Is Gersh — as one gardener put it — "gentrifying the urban farming movement" while getting and taking an outsize portion of credit for it?
Beyond the farms, multiple sources say they're concerned about Gersh's attempt to lead the North End — in which he arrived around six years ago — and perceived disrespect for black-led organizations and longtime residents.
Those issues sometimes play out in the North End's block clubs and association meetings, of which Gersh is a part. Pam Martin Turner, executive director of the Vanguard Community Development Corporation, alleges that Gersh is trying to derail a mixed affordable and market-rate housing project that the CDC is developing, and regularly disrupts its other neighborhood improvement efforts. (Gersh acknowledges that he strongly opposes the project.)
Turner, Hebron, and other sources we spoke with characterize him as disrespectful to and confrontational with those who don't support his agenda. Emails provided to Metro Times support that, and a Vanguard employee filed for a personal protection order. The order wasn't granted after the first filing, and was withdrawn after the second, but several women tell Metro Times that they now have men present when meeting with Gersh. Gersh says the filings are "completely ridiculous" and claims he has never put anyone in danger.
And there's a larger issue: Gersh may have plans for an agrihood, but North End residents we spoke with say there are mixed levels of support. When asked about support, Gersh pointed to a thick stack of petitions filled with signatures of those who back the project. He also pulled out one of the many North End parcel maps he created. This one was color-coded to show which neighbors had the opportunity to support him and which didn't.
However, one resident we spoke with said they signed the petition to avoid confrontation. Others say the farm is an asset, but don't approve of Gersh's approach, or that he is trying to take over city-owned land.
"Tyson puts himself out there as the gatekeeper" of the North End, Hebron says. But there's concern about the coronation of a 28-year-old white man from Ann Arbor who is trying to execute a neighborhood-changing plan in a roughly 90-percent black neighborhood. Several sources likened it to "colonialism."
"I'm not in favor of putting a wall around the North End and not letting any white people in, but people need to come here in a way that shows a humility and respect for those who live here already," a North End property owner tells us.
In that way, this is much more than a hyper-local fight. The themes at play are deeper and the same as those found across Detroit that are rooted in power, gentrification, class, race, and economic stratification. It's a story of new Detroit meeting old Detroit…."
—
"For many in the room that day, and in the food movement overall—particularly Black farmers and food activists—Nelson's question, and the article that reported the incident, spoke to larger systemic issues of accountability and leadership. The inequities inherent in the system didn't just apply to the issue of land reform, which Bittman has said is needed to undo the damages of racist federal policies. It spoke to the unjust and racially inequitable concentrations of power, and the erasure of Black and Brown people within the mainstream portrayal of the food movement.
The National Black Food and Justice Alliance, which represents hundreds of Black farmers, activists, organizers and organizations throughout the country, wrote in a statement later that the question of accountability is essential. "Accountability often entails taking direction, listening to, accepting feedback and criticism, and most importantly being in deep relationship with those on whose behalf you purport to speak," it read in part."
---
Colonization of the Diet
—
"The violence that accompanied the European colonization of the Indigenous people of Mesoamerica is a well-known fact. Historians have elaborated on the devastating effects such colonization had on Indigenous societies, cultures, and mortality. While the study of the conquest has generally focused on the social, political, and economic changes forced upon Indigenous populations, the matter of food—the very source of survival—is rarely considered. Yet, food was a principal tool of colonization. Arguably, one cannot properly understand colonization without taking into account the issue of food and eating.
Imagine that you are a Spaniard, newly arrived on the coasts of a foreign land. Your survival depends on two things: security (protecting yourself from danger) and nourishment (food and other substances that are necessary for survival). In terms of the former, Europeans arrived on the coast of what is now referred to as "the Americas" fully equipped with the means to protect themselves. Atop horses, armed with advanced weaponry and a slew of European diseases, Spaniards engaged Indigenous populations in the most violent of ways. Nourishment, however, was another matter.
When Spaniards arrived in Mesoamerica, they encountered the Maya, Aztecs and other prominent Indigenous groups. The land was rich, fertile, and filled with crops such as beans, pumpkins, chilies, avocados, elderberries, guavas, papayas, tomatoes, cocoa, cotton, tobacco, henequen, indigo, maguey, corn, and cassava.[1] Europeans encountered similar agricultural plantations throughout the region. However, to the colonists this food was substandard and unacceptable for the proper nourishment of European bodies. At the time of conquest, the European diet was principally composed of bread, olive oil, olives, "meat," and wine. While this diet was somewhat sustained on the actual voyage from Europe to the Americas, upon arrival, Europeans found themselves devoid of the foods they considered necessary for survival. As Europeans began dying off in these "new" lands, the focus of concern shifted to food. In fact, Columbus himself was convinced that Spaniards were dying because they lacked "healthful European foods."[2] Herein began the colonial discourse of "right foods" (superior European foods) vs. "wrong foods" (inferior Indigenous foods). The Spaniards considered that without the "right foods," they would die or, even worse, in their minds, they would become like Indigenous people.
The "Right Foods" vs. the "Wrong Foods"
Europeans believed that food shaped the colonial body. In other words, the European constitution differed from that of Indigenous people because the Spanish diet differed from the Indigenous diet. Further, bodies could be altered by diets—thus the fear that by consuming "inferior" Indigenous foods, Spaniards would eventually become "like them." Only proper European foods would maintain the superior nature of European bodies, and only these "right foods" would be able to protect colonizers from the challenges posed by the "new world" and its unfamiliar environments.
In the minds of Europeans, food not only functioned to maintain the bodily superiority of Spaniards, it also played a role in the formation of social identity. For example, in Spain, elites generally consumed bread, "meat," and wine. The poor in Spain, however, could not afford such luxuries and instead ate such things as barley, oats, rye, and vegetable stew. Even vegetables were classified based on social status; for example, in some cases rooted vegetables were not considered suitable for elite consumption because they grew underground. Elites preferred to consume food that came from trees, elevated from the filth of the common world. Thus, food served as an indicator of class.
In addition, at the time of conquest, Spain was facing internal divisions of its own. In an effort to expel Spanish Muslims, as well as Jewish people, from Spain, King Ferdinand V and Queen Isabella I relaunched what was known as the Reconquista, the re-conquest of Spain. As a strong Spanish identity formed around the idea of the Reconquista, food became a powerful symbol of Spanish culture. For instance, consider "pork": Among Muslim, Jewish, and Catholic people, only Catholics could eat "pork," since for Muslim and Jewish people, the consumption of "pork" was forbidden. During the re-conquest, as individuals were being forced to prove that they were pureblooded Spaniards, they would often be offered "pork" to eat. Any refusal to consume "pork" would be taken as a sign that such people were not true Catholic Spaniards and would subsequently be expelled from Spain, persecuted, or even killed.
As the Spanish arrived in the "new world" and initiated the European colonization of the Americas, they also brought with them the notion of cultural and class based distinctions that were founded on the types of food people ate. For example, upon their arrival, the Spaniards determined that guinea pig "meat" was a fundamentally "Indian" food, thus anyone who consumed guinea pig was considered "Indian." The same was true for other staple Indigenous foods, such as maize and beans. The Spanish considered such Indigenous fare "famine foods,"[3] fit for consumption only if all other "right foods" had been thoroughly exhausted.
The symbolic nature of food was also seen in the imposition of religion, another destructive aspect of the conquest. The Eucharist, the holiest rite among Catholics, was composed of a wafer made of wheat, which signified the body of Christ, and wine, which signified the blood of Christ. Initially, before wheat was harvested in the Americas, it was difficult to obtain wheat from abroad, since much of it spoiled in transit. The wafers that were necessary for this rite could easily have been made from the native maize, but Spaniards believed that this inferior Indigenous plant could not be transformed into the literal body of Christ, as could European wheat. Similarly, only wine made from grapes was acceptable for the sacrament. Any potential substitute was considered blasphemy.
If Spaniards and their culture were to survive in these foreign lands, they would need to have readily available sources of the "right food." Often, as Spanish officials reported back to the crown on the suitability of newly conquered lands, the "lack of Spanish food" was mentioned. Frustrated with what the "new world" had to offer, Tomas Lopez Medel, a Spanish official, reported that, "…there was neither wheat, nor grapevines, nor any proper animal…" present in the new colonies.[4] Hearing this, the Crown commissioned a number of reports that were to elaborate on which European plants grew well in the colonized lands, as well as details as to where they grew best. It was soon determined that the most suitable arrangement would be for colonists to grow their own foods, and it was not long before Spaniards began to rearrange agriculture to meet their own needs. Although wheat, wine, and olives only thrived in certain regions of Latin America, the Spaniards considered this a success. Colonists were elated that their own foods were successfully growing in foreign lands, and while crops were important, the Europeans' most significant success was with farmed animals, which thrived in ways that were unparalleled.
The Arrival of Cows, Pigs, Goats, and Sheep
A number of domesticated animals were present when Europeans arrived in what is now known as Latin America. Among them were dogs, llamas and alpacas, guinea pigs, turkeys, Muscovy ducks, and a type of chicken. In Mesoamerica, any "meat" and leather that was consumed or utilized usually came from wild game, and generally, there were no animals exploited for labor, with the exception of dogs, who were at times used for hauling.. Europeans considered this lack of proper animals for work and consumption unacceptable. Thus, the first contingent of horses, dogs, pigs, cows, sheep, and goats arrived with Columbus' second voyage in 1493.[5] The arrival of these hoofed immigrants would fundamentally alter Indigenous ways of life forever.
To begin, considering the domesticated animals who existed in Latin America prior to the conquest, these imported animals had little to no predators to deal with. These animals did not succumb to any new diseases, and food sources for these animals were vast. The Spanish literally left the animals to feed on any of the rich grasses, fruits, and other food they could find in these new lands. With a plethora of food and no real threats to their existence, these animals reproduced at astonishingly rapid rates. By the 17th century, herds of cows, pigs, sheep, and goats numbered in the hundreds of thousands and roamed throughout the entire continent. As a result, "meat" prices plummeted and the consumption of "meat" exponentially increased. In Spain, the consumption of "meat" was a luxury, but in the "new world," the sheer availability of these animals made this luxury accessible to all. This point in time marked the commodification of these animals in the Americas, a natural consequence of which was an ever-expanding "meat" industry. In fact, at this time, "livestock" ranches were so well established and were producing such large quantities of domesticated-animal "meat" that almost everyone was consuming substantial amounts of animal protein. Eating "meat" was considered an economic benefit of keeping animals, but it wasn't the only one. Records also show an increase in dairy consumption, as well as lard as a replacement for the traditional use of olive oil in colonial cooking. In addition, the demand for "hides" and "tallow" (often used for candles) was even greater than the demand for "meat."
The most devastating consequence of this new "meat" industry was that its extraordinary proliferation was accompanied by an equally extraordinary decline in Indigenous populations. Spaniards anxious to establish the "right foods" to ensure their own survival delineated large sections of lands for grazing, with no regard for the way the land was being used prior to their arrival. These vast herds often wandered onto Indigenous croplands, destroying their primary means of subsistence. The situation became so severe that in a letter to the Crown, a Spanish official wrote, "May your lordship realize that if cattle are allowed, the Indians will be destroyed…"[6] Initially, many Indigenous people in this region became malnourished, which consequently weakened their resistance to European diseases. Others literally starved to death as their agricultural plots were trampled, consumed by animals or appropriated for Spanish crops. In time, many Indigenous people, left with limited options, began to consume European foods.
As devastating as this was, it is important to note that Indigenous populations in the "Americas" did not passively deal with this change. There are a number of clearly documented instances in which Indigenous people, during the process of colonization, specifically resisted European foods. For instance, in North America, the Pueblo people launched a revolt against the Spaniards in which Spanish food was a primary target. During this rebellion a Pueblo leader was said to have ordered the people to "…burn the seeds which the Spaniards sowed and to plant only maize and beans, which were the crops of their ancestors."[7] Although resistance to European culture was not uncommon, in time, Indigenous people went on to adopt many European foods into their diet. Similarly, many colonists eventually went on to incorporate Indigenous foods into their daily eating.
Food Acculturation in the "New World"
Several factors contributed to the acculturation of food of both Indigenous people and Europeans in the "new world."
First, in the process of colonization, Europeanization was rewarded. Initially, conversion to Catholicism and the adoption of Spanish culture, customs, and beliefs was a forced matter. In time, the Spanish attempted other methods for converting Indigenous people to their way of life. For example, priests attempting to convert young Indigenous men to Catholicism would offer them "livestock" in return for their conversion.[8] Owning "livestock" was attractive: animals were a source of income, and consuming such animals was a sign of elevated status, by Spanish standards. Since food was an indicator of status and Indigenous people could enhance their status with colonists by taking on Spanish culture, many Indigenous people adopted Spanish practices, cuisine included, as a way of securing a higher status in colonial society.[9]
Another important factor that shaped the adoption of European foods into Indigenous diets was related to the role of women in colonial society. An integral part of colonization was carried out through Iberian women who arrived shortly after their men settled in the "new world." As Spanish settlers began the task of establishing structured colonies, the Crown was made aware of wanton behavior taking root in their new lands. Spanish men were said to be out at all hours of the night, frolicking with different women, displaying drunkenness and disorder in the streets of new Spain. The Crown determined that logically, this behavior was the consequence of men left to their own devices without their wives to maintain the structure of family and civility. Thus, the Crown demanded that Iberian women be sent to join their husbands in order to civilize society in the "new world." As these women arrived, Spanish
households were reunified and Iberian women began to solidify the role of the Spanish family in the colonies. This reunification of Spanish families paralleled the destruction of the Indigenous household, as many Indigenous women were forced into working as domestic workers, cooks, nannies, and wet-nurses in Spanish homes. Part of the role of these Indigenous women was to learn to cook European foods and reproduce colonial practices in the home; Iberian women were present to make sure it was done properly. The presence of Spanish women was meant to provide an example of how a "civilized" woman looked and behaved, and much of this "civilization" took place in the kitchen. If Indigenous women were to reproduce Spanish cooking—the source of superior Spanish bodies—they would need to be instructed by a Spanish woman who could teach them how to make "civilized" food. Thus, many Indigenous women began reproducing Spanish cuisine as a result of their new role in the European household. However, there is also documentation of the introduction of Indigenous foods and cooking practices into European diets. This was a consequence not only of Indigenous women working in Spanish households, but also a result of mestizas who married Spanish men and began integrating aspects of their mixed heritage into these mixed households. For example, the use of the comal is markedly Indigenous, yet archeological records indicate that it was used in most Spanish households. Also, we see Indigenous variations in cooking with, for instance, the use of chili. Europeans accepted the use of chili in their food since it was similar to pepper. This similarity allowed for its widespread acceptance among Europeans. Alterations to Spanish diets were most common during times of famine, where famine meant a lack of Spanish foods. During these times, Indigenous cooks would prepare indigenous foods, which Spaniards would be forced to consume. For Indigenous people, Spanish cuisine was a principal reason that colonists were intent on acquiring the lands on which they produced their own food. Thus, for Indigenous people, the struggle was in maintaining their own cuisine while understanding that, for pragmatic reasons, they had to adopt new foods.
Lastly, as noted above, the mere availability of food for consumption began to alter eating practices. The land that previously served to nourish indigenous communities was now organized to meet the need for raw materials necessary for export.  Yet the Spanish crown was careful to control local Spanish authority so as to not allow any conquistador to acquire a disproportionate amount of power. In order to control this, the crown allowed some land to be preserved for subsistence cultivation of indigenous communities. On this land communities were allowed to collectively grow what they needed for their daily subsistence. However, this was not an altruistic move on behalf of the crown; it was a calculated attempt to maintain their grasp on local power. As time went on, the crown suffered a series of economic shortages, and when such shortages economically affected the crown, they set their eyes on communal lands, which they then deemed should be used to meet the needs of international trade rather than those of the indigenous community.  As European needs expanded, indigenous communal lands turned into large plantations, or haciendas, and their production was now directly tied to the demands of European markets. Slowly but surely these haciendas came under the private control of those profiting off international trade.
Food, the Legacy of Colonization, and Resistance
Although currently we can recognize many Indigenous foods that are staples of Latin American diets, we must also acknowledge the legacy of colonization in this diet. The large-scale consumption of "meat," which makes up such a significant part of modern Latin American diets, is entirely traceable to the conquest and the process of colonization, as is the cultural, social, and even gendered significance attached to such consumption. The expansion of the commodification of animals as an industry in Latin America is also rooted in the legacy of colonization. Through this commodification, dairy also became a huge industry in colonial Spain. Interestingly, the consumption of milk and other dairy products serve as a unique lens through which to consider the links between food and colonization.
The practice of dairying was a product of the domestication of sheep, goats, cows, and pigs somewhere between 11,000-8,000 BCE. [10] People whose society was structured by a pastoral tradition were the first to practice dairying. These people were primarily Indo-European and are said to have pushed out to Northern Europe and as well as Pakistan, Scandinavia, and Spain. The practice of the consumption of milk—and to a large extent cheese, yogurt, and butter—has long been the tradition among these European people. In groups that were traditionally hunters and gatherers, however, there is little evidence for any type of dairying, given that they had no animals suitable for dairying, and that this practice required a more sedentary lifestyle. As Europeans colonized "the Americas," they also brought with them the practice of dairying, a huge industry to this day. Yet Indigenous societies were based on the hunter-gatherer model. It is here that we see the most interesting piece of biological resistance to the process of food colonization: the bodily rejection of lactose among Indigenous populations. All data indicate high levels of lactose malabsorption[11] (LM) among groups that were traditionally hunter-gatherers. Populations from traditional zones of non-milking—namely, the Americas, Africa, Southeast and East Asia, and the Pacific—have a very high prevalence of LM. Among these groups, approximately 63-98% of all adults are not able to consume milk or lactose-rich dairy products without experiencing at least some level of physical discomfort. [12] Individuals of European decent, however, have a very low prevalence of lactose malabsorption. [13] Thus, there is a clear and well-established link between geography and the prevalence of LM. Descendants of zones of non-milking continue to have high prevalence of LM, especially among those who remain relatively unmixed or who have only interbred with other LM populations. Low prevalence of LM remains constant among those of northern European descent. Among individuals who are mixed between these populations, the level of mixture determines the prevalence of either low or high LM; that is, the more European a person is, the lower the prevalence of LM. Although colonial diets and eating practices were integrated into traditional Indigenous consumption practices, dairy is a product that to this day remains physically intolerable for many.
Food Is Power
Colonization is a violent process that fundamentally alters the ways of life of the colonized. Food has always been a fundamental tool in the process of colonization. Through food, social and cultural norms are conveyed, and also violated. The Indigenous people of the Americas encountered a radically different food system with the arrival of the Spanish. The legacy of this system is very present in the food practices of modern Latin American people. Yet, we must never forget that the practice of colonization has always been a contested matter as groups have negotiated spaces within this process. Indigenous foods remain as present in contemporary Latin American diets as do European foods. Understanding the history of food and eating practices in different contexts can help us understand that the practice of eating is inherently complex. Food choices are influenced and constrained by cultural values and are an important part of the construction and maintenance of social identity. In that sense, food has never merely been about the simple act of pleasurable consumption—food is history, it is culturally transmitted, it is identity. Food is power."
—-
Decolonizing Guam's Diet
—
—
Neo-Colonialism
—
—
—
Hard Core Cornography: NAFTA Pt. 2
---
Learn More
Land Justice: Re-imagining Land, Food, and the Commons
Collective Courage: A History of African American Cooperative Economic Thought and Practice
A People's Curriculum for the Earth: Teaching Climate Change and the Environmental Crisis
A Foodie's Guide to Capitalism: Understanding the Political Economy of What We Eat
The Color of Food: Stories of Race, Resilience and Farming
NFWM: Timeline of Agricultural Labor
---
Follow Campaigns
Federation of Southern Cooperatives
National Family Farm Coalition